1 property for sale in San Cristóbal de la Laguna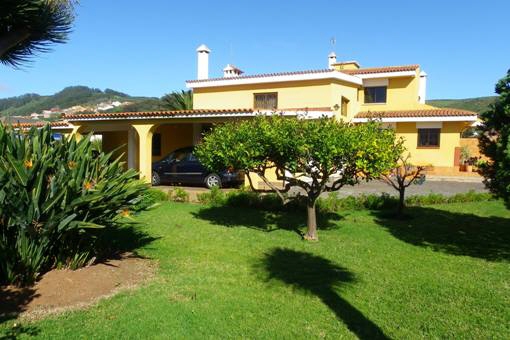 San Cristóbal de la Laguna, Spacious villa in quiet sought-after location of La Laguna
constructed:
550 m²
plot area:
1.360 m²
bedrooms:
5
price:
€ 900,000.-
Real estate agent in San Cristóbal de la Laguna, Tenerife
You are looking for a property for sale in San Cristóbal de la Laguna, or have a question regarding our real estate offers on Tenerife? You were not able to find the ideal villa in San Cristóbal de la Laguna? Then please call us on +34 971 698 242, or send us an email to info@portatenerife.com. Our Porta Tenerife real estate agents in San Cristóbal de la Laguna will be pleased to asist and will help you find your dream property.
About San Cristóbal de la Laguna and surrounding area:
San Cristóbal de La Laguna was capital of Tenerife since the beginning of Spanish colonization at the end of the 15th Century. Only with the growing importance of the new port in the north-east of the island the seat of government moved in 1723 to Santa Cruz de Tenerife. Today, the university town of La Laguna and Santa Cruz has grown into a metropolis. The rich history remains preserved in the numerous stately homes of the old town, declared by UNESCO as world cultural heritage. Here you can enjoy the beautiful Canary wooden balconies, magnificent patios and decorated facades with a tour or stroll around the many shops, bars and restaurants in the pedestrian streets of La Laguna.

The churches and monasteries of the city are also worth a visit and show the importance of the settlement, which was created on a fruitful plane at a previous lake. The Tower of the famous Iglesia de Nuestra Señora de la Concepción offers the best overview of the historical treasures of San Cristóbal de La Laguna. In the church there is a large baptismal font in glazed ceramic, which is even from before the Spanish conquest.

The central location between the north and the south coast of Tenerife, at the foot of the ridge on which a road leads up to many scenic views to Mount Teide and the proximity to the overwhelming nature of the Anaga Mountains with numerous hiking trails, make the city in addition to a special attraction. Beaches are on the wild north coast, and the protected tyellow beach Las Teresitas in Santa Cruz is only 12 km away.